President Jacob Zuma on Wednesday announced the removal of Finance Minister Nhlanhla Nene from the Finance portfolio in Cabinet.
"I have decided to remove Mr Nhlanhla Nene as Minister of Finance, ahead of his deployment to another strategic position," Zuma said in a statement.
Zuma said that Nene had done well since his appointment as Minister of Finance during a difficult economic climate.
Zuma has appointed ANC member of parliament, David Van Rooyen, as the new Minister of Finance.
Van Rooyen served as the Whip of the Standing Committee on Finance and as Whip of the Economic Transformation Cluster.
He was also a former executive mayor of Merafong Municipality and a former North West provincial chairperson of the South African Local Government Association.
"The new deployment of Mr Nene will be announced in due course," Zuma said.
Rand Drops to Record After South Africa Debt Rating, Outlook Cut [Bloomberg]
The rand fell to a record against the dollar and bonds tumbled, sending yields to their highest levels since February 2014, after Fitch Ratings cut South Africa's credit rating and Standard & Poor's lowered its outlook on the country's debt.
The rand declined as much as 1.3 percent to 14.5629 per dollar before paring some of its losses, weakening with most major and emerging-market currencies as the greenback rose on speculation a strengthening U.S. economy will boost the pace at which the Federal Reserve increases interest rates. Yields on benchmark rand debt rose for a ninth day, increasing by the most in more than six weeks.
Fitch cut South Africa's credit rating one level on Friday to BBB-, the lowest investment grade, and in line with the assessment of S&P's, which lowered its outlook to negative from stable. The country's growth potential has deteriorated further, with a power shortage likely to constrain an expansion for the next two years, Fitch said, which also cited the government's decision not to tighten fiscal policy in the face of weakening revenue and rising debt levels. Flexibility around the budget might reduce because of risks associated with funding needs of state-owned companies, S&P said.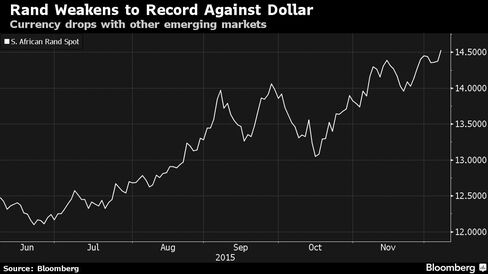 "The rating agencies' concerns are certainly valid, with the glacial pace of structural reform digging the hole that the economy finds itself in ever-deeper," said Bart Stemmet, an analyst at NKC African Economics, based in Paarl, near Cape Town. "Brave leadership is needed to drive the deep structural reforms needed to put the South African economy back on track, but one wonders whether the specter of being rated junk would be enough to spark such a drive."
The currency of Africa's most-industrialized economy weakened to 14.5536 per dollar as of 5:44 p.m. in Johannesburg, extending losses this year to more than 20 percent, the most among 31 emerging-market and major currencies after Brazil's real and Colombia's peso. Yields on government rand-denominated debt due December 2026 climbed 10 basis points, the most since Oct. 21, to 8.76 percent.
The rand may see more weakness during the week, according to Annabel Bishop, chief economist at Johannesburg-based Investec. S&P's outlook change was "less expected," while the Fitch ratings cut was "mostly priced into the markets," she said.